I was fortunate to discover my love for race cars at a very early age. By age 12, I read my dad's Chilton's repair manual from cover to cover. Swapping cams and manifolds in my parents' driveway was a weekly occurrence by age 14. During the gas crisis of the late 70s, adults began liquidating their gas-guzzling V8s to buy vehicles like Chevettes and Pintos. Ironically, that made it possible for my high school friends and me to afford aging muscle cars and used performance parts. I was assembling race engines for the older kids in the neighborhood before I ever (legally) drove a car. One night I rode shotgun during a shakedown cruise in my neighbor's 4-speed, high compression '69 Camaro with open headers. I was hooked for life.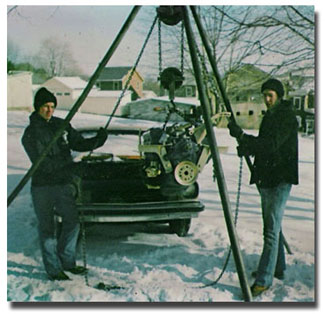 Paul, right, and friend Tony Noakes in 1980.
---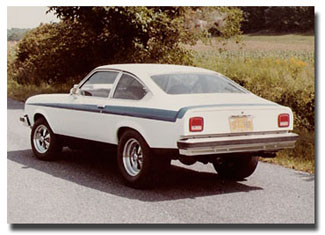 Tony's completed Vega project, summer of '83.
---
With aspirations of becoming a mechanical engineer, I then attended Penn State University from 1981 to 1985.

During my junior year, I realized that I was much more interested in how things were manufactured than crunching complex design calculations.

So I started taking classes related to manufacturing processes to fulfill my "technical elective" requirements for my degree.
After graduating in 1985, I moved to Kansas for a Manufacturing Engineering position at The Cessna Aircraft Company. I flourished in the environment of expert tool makers and the latest CNC machinery, but yearned to replace business jets with race cars. I did a bit of bracket racing on the weekends. But I just couldn't quit tinkering with the car. Consistency wasn't my forte, but I couldn't afford to race in the heads-up classes.
After a short term at Weld Wheels, I started Contouring Specialists in 1996. I purchased some CAD/CAM software and began beating the bushes. My half-baked business plan quickly gave way to economic survival, and I returned to the aircraft industry as a freelance CNC programmer for area job shops.
After establishing good relationships with some of my aircraft job shop customers, I began negotiating the use of their machinery after-hours to develop my own line of racing products.

With limited knowledge of marketing, I fumbled along by trial-and-error to find my niche in the drag racing aftermarket.
I eventually realized that intake manifolds were lagging behind the cylinder head trend of adopting the benefits of CNC machining. I started building billet runners for a few customers, and the improvement was immediately obvious. Eventually, I purchased a CNC machining center for that particular purpose.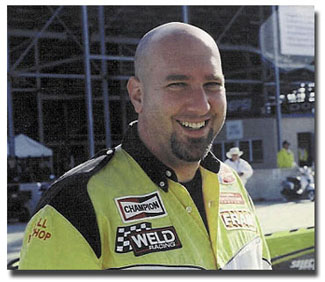 Paul wrenching for the Hirata family in 2003.
---
Shortly thereafter, I was introduced to NHRA Pro Stock veteran Larry Morgan.

He was in search of a billet runner supplier to experiment with manifold improvements.

Our first collaboration was a significant improvement over his existing manifolds.

With that success, I convinced him to turn me loose on an idea to build a bolt-together all-billet manifold.

Again, we found a significant performance improvement as well as unparalleled consistency required for his Pro Stock engine leasing business.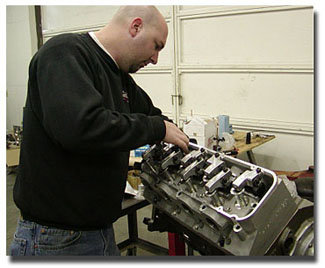 Team Engineer for Jimmy and Dawn Creten, 2002-2005.
---
The all-billet manifold was a perfect fit for an engine leasing operation, but the huge amount of CNC programming and machining did not make sense for customers who needed only one or two manifolds for their particular engine combination.

So I continued to develop billet runners and flanges for my sportsman customers in Comp Eliminator, Super Stock, A/fuel dragsters, and any heads-up competitor that needed every bit of power.

With one success after another, I finally put the aircraft services behind me and changed my company name to the more relevant
Swartz Racing Manif

olds

.
Paul G. Swartz
Owner & Engineer
---
A special thanks to those who helped me along the way:
My parents, Laird and Shirley
Tony and Jodi Giacobbe
Don Lauchnor
Tony Noakes and family
Fred Long and John Woodman of Aero Comm Machining
Chuck McDaniel of C&M Auto Machine
Sylvia Renee McDaniel
Art Carlton of Innovators West
The Hirata Family
Frankie Jr. and Frank Aragona
Jimmy Creten and family
Dorothy Lean
Duane Radcliff
Larry Morgan and everyone at LMR, Inc.
Dawn Mazi-Hovsepian of Drag Strip Girl Designs

---