Offset Distributors:
If you own a Ford V-8 with dual-4 induction, you know why we build offset distributors. An uncompromised runner layout usually requires moving the distributor. We build these units in-house with genuine MSD components and our own billet components making up the balance. The key features and benefits include:
Both shafts are supported on bearings on both ends. Sealed ball bearings are used on the distributor head and top of the engine shaft, and a Torrington caged needle bearing is used on the bottom of the engine shaft. A Torrington thrust bearing is used on the engine shaft to accommodate reverse cam rotation applications.

The engine shaft is heat-treated and ground 4340 alloy steel. This is done for the needle bearing race hardness requirements, but the resulting quality is superior.

All models use the large Ford-style distributor cap. This reduces the risk of spark scatter or cross-firing. Typically, racing distributors for Ford applications use smaller caps due to space limitations.

Two offsets are available – 3.2" (shown) for dual-4 applications, and 7.2" to clear turbo plumbing or large superchargers.

Three different heads are available. 1) Crank-trigger head - just a fixed rotor spinning in a low-profile housing. 2) MSD "Pro Billet" style head – includes a Hall-effect pick-up and mechanical advance mechanism that can be tuned or locked out. 3) "Sync-Pulse" modified MSD "Pro Billet" head – The reluctor is replaced with a billet single paddle reluctor for fuel-injection timing. The modified reluctor can be indexed on the shaft with a set-screw, and the ignition timing is done with a crank-trigger. It effectively turns the distributor into a cam-position sensor for EFI induction.

Bronze gear standard on all models.

Adjustable belt tension – the belt box slides on a track and is locked in position with one bolt.

Spare belt included – Most customers requested a spare belt, so we included an extra one with every unit. The Goodyear belts are readily available, but you probably won't find one on Sunday.

Available for popular Ford V-8's – Small block (260, 289, 302, 5.0L), Windsor (351W and 9.2 deck race engines), FE series (390, 428, 427), and Big block (351C, 351M, 429, 460).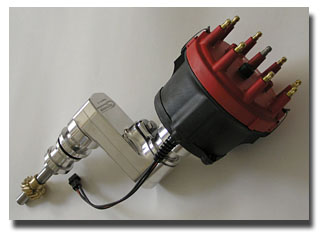 Ford 351 Windsor Offset Distributor with MSD Pick-up and Mechanical Advance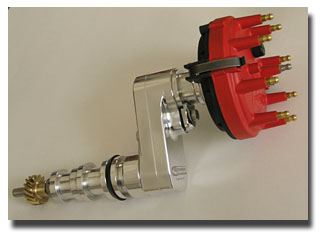 Ford FE Series Offset Distributor with Crank Trigger Head